Why Glial Cells in the Brain Are Important
In addition to nerve cells there are 4 types of glial cells in the brain and spinal cord. In the past, glial cells were considered merely mechanical support for nerves. In contrast to glial cells, nerves of the brain were thought to be in charge of co-coordinating the important whole body activities. Recent data, however, suggest a more dynamic role for glial cells in how the brain works.  They are actively involved in nerve signaling and in immune surveillance within the brain.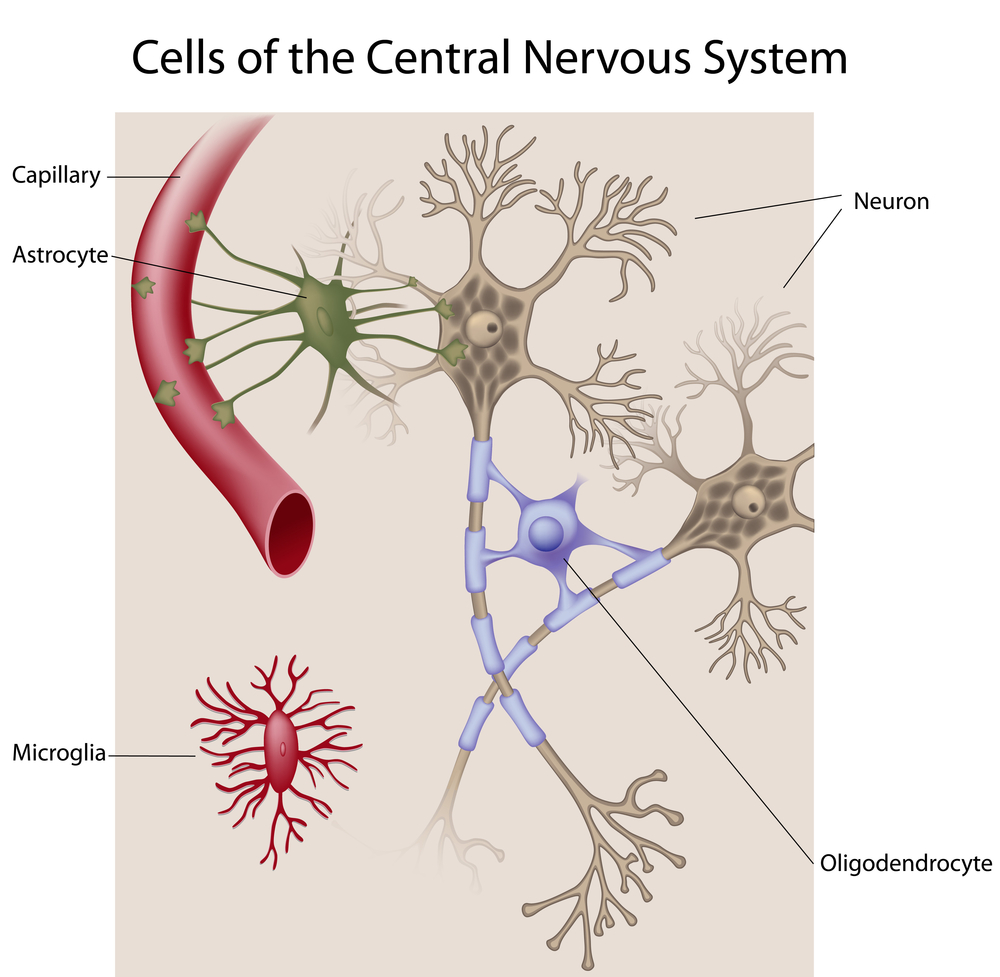 In the brain, glial cells are ten times more common than nerves. Glial cells are easy to distinguish in histology sections from nerves because they are much smaller, about one tenth the size of nerves.
Brain tissue is divided anatomically into brain white matter and brain gray matter.  There are many nerve cells in what is called gray matter and many glial cells in what is called white matter. However, there are some glial cells in gray matter and some neurons in white matter. Color difference in tissue sections arises because of the relative density of each cell type.
The first type of glia to discuss, the epenymal cell, is pictured  below.  Ependymal cells line the ventricles of the brain and the central column of the spinal cord. These cells are much like simple columnar epithelial cells with microvilli and cilia on their surface that faces the ventricle. They both absorb and produce cerebral spinal fluid. On the opposite side of these cells, away from the ventricle, there are tentacle-like extensions that attach to a second type of glial cells the astrocytes.
Astrocytes form bridges between nerves and ependymal cells and between nerves and blood capillaries. They play an active role in regulating blood flow in the brain and, therefore, delivery of nutrients and removal of waste from the brain. Studies during the 1990s showed for the first time that astrocytes are also involved in cell signaling within the brain. They signal to neurons through a calcium dependent release of the excitatory neurotransmitter glutamate.
At synaptic spines of nerve dendrites astrocytes often form an anatomical tripartite synapse with the pre- and postsynaptic nerve elements. A recent paper published in the Proceeding of the National Academy of Science USA, Stobart et al. (PubMed ID 23386721) also shows data to suggest that astrocytes, influenced by neighboring neural activity, can increase brain blood flow by signaling for local dilation of blood vessels. To find the article, type "PubMed" into your search engine. Then enter the PubMed ID number and click the "search" button. For more about the multi-functional role of astrocytes as brain gatekeepers also look up Dr. Stobart's paper with PubMed ID number 23596393.
The third type of glial cell important to nerve signaling integrity is the oligodendrocyte. It is this cell that makes all of the myelin that insulates the axons of nerve cells. A single oligodendrocyte can wrap a 1 um sheath around up to as many as 50 axons. Presence of a myelin sheath increases the rate at which signals are transmitted along a nerve axon by preventing leakage of ions from the axon. Surprisingly such insulation of brain nerve axons is not complete in humans until age 25-30. Some investigators have produced data that suggest the degree of myelination of brain nerve axons can be correlated with complex cognitive activities such as risk assessment.
The fourth type of glial cell is known as microglia. These cells that are very tiny in their inactive form are the resident macrophages of the brain and spinal cord. They function as the first and main form of immune defense in the brain and spinal cord. Microglia scavenge for build up of waste material, damaged or apoptotic nerves, and infectious agents. Microglia cells originate as primitive macrophages from the embryonic yolk sac. Primitive macrophages further differentiate into microglia within the brain. Their population is supplemented by bone marrow derived myeloid cells during trauma.
Microglial cells undergo a variety of structural changes depending upon their current role. Such structural changes are correlated with the functional changes of these cells. Shape and size of microglial cells depend upon whether they are scavenging, phagocytosing virus and bacteria, presenting antigen, pruning synapses, or promoting repair and regrowth of nerve tissue.
Microglial cells are also active in maintaining brain homeostasis. They accomplish this task through a complex set of extra cellular signaling molecules that allow them to communicate with other glial cells, nerves, and T-cells.
In summary, to understand how a brain works and how it fails to maintain homeostasis in diseased states both nerves of the brain and glial cells in the brain must be taken into consideration. If you would like help visualizing the cell types in the brain and spinal cord check out Dr. John Minarcik's videos Shotgun Histology of Brain and Shotgun Histology of Spinal Cord.
Watch for my next post coming soon when I will discuss the role microglia play in aging and disease.  Please share this post with your friends by giving it a thumbs up "Like" below.
You may also like to read the following.